China Market Entry, Market Entry Strategy into Chinese Market
Since Starmass presented in China in 2001, we have assisted over 110 companies successfully enter the China market and help them establish strong presence in China, some of them started from very beginning stage of understanding the market. With over 10 years' experiences, Starmass has developed a systematically-structured approach to assist our clients enter into the Chinese market. With our expertise, we have minimized our clients' risks of entering the Chinese market and maximized our clients' returns of investment.
The following flowchart is to illustrate our typical and systematic approach to assist our clients who plan to enter into China market from China market research, market analysis, entry strategy to enter into the Chinese market: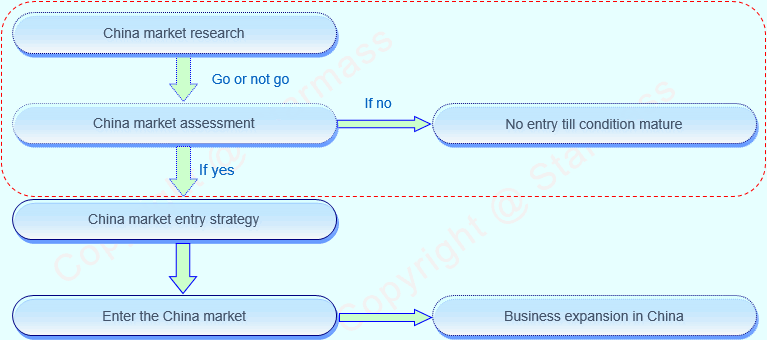 If you wish to understand more about the Chinese market before making decision, we can assist you by means of the three phases below:
Phase I: China market research and analysis
Study the marketplace in which you are interested, this will provide you good understanding on how is the market size, market potentiality for your products in China; what are customers' needs and expectations; how is the market competition etc.
Phase II: Market entry strategy
Study the best channels to enter the China market and recommend market entry strategy, for example, is it better to have your own office in China? if yes, where is the best location? or is it better to start business through local distribution partners?
Phase III: Implementation of entry strategy
Establish the best channels to enter into the Chinese market. It could be: setting up your own representative office in China, or setting up wholly-foreign owned company or joint venture company, or establishing distribution channels through local business partners.