Export to China - Doing Business in China
Over the years, Starmass has developed a broad network and gained extensive experiences in China to assist our clients export their products to China and do business in China. With our expertise, we can minimize your risks of exporting to China and doing business in China, and achieve the best business development and expansion in China.
We can assist you export to China or do business in China through setting up your own representative office, or through local business partners, or investing to set up wholly-foreign owned company or joint venture company in China.
If you decide to export to China or trade products through local partners (importers / agents / distributors / representatives etc), we are able to assist you source and screen local prospective distribution partners who meet your requirements and have capability to market your products in China. Our systematic approach will enable us identify the most suitable Chinese partners and maximize your investment return in China.
Flowchart
Below is the flowchart to show our process of market entry starting with China market research till export to China and do business in China (importers, agents / distributors, representative office, investment):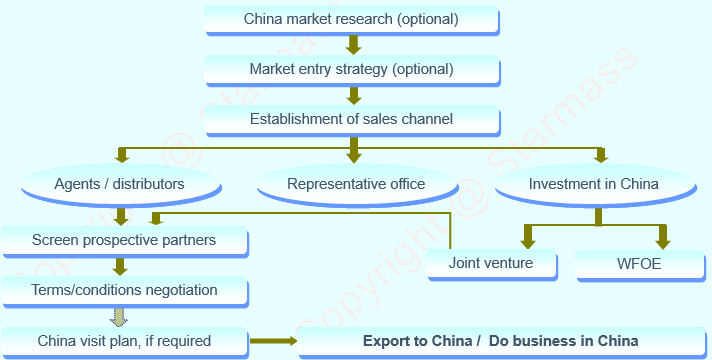 Remarks: WFOE refers to Wholly Foreign-Owned Enterprise
Contact us now! to get more details, we will get back to you in hours NOT days!